50-100
Smaller events are fantastic, when done right.
500
Our maximum, reception-style.
200 / 300
Table seated:
main room / main room + lounge.
150 - 300
Typical event size at Clementine, hard to go astray.
300
Maximum ceremony or auditorium-style event in Adelaide Hall.
ADELAIDE HALL (MAIN ROOM)
This actually exists in Nashville? We hear it a lot. Adelaide Hall is the original 1889 church sanctuary and largest of Clementine's spaces. Soaring wood beam ceilings, brick walls and natural light stream through steel gothic windows. Heart pine floors and massive mid-century modern chandeliers. Two stage areas, concert quality audio, video, and decorative LED lighting. And the famous pipe organ.
LITTLE BIRD LOUNGE
Even before demolition, Dan asserted that this former cluster of 7 rooms (ca. 1905) would be the most interesting room in Nashville. Little Bird Lounge is our second large interior space and is of a distinct design from Adelaide Hall, which it adjoins. Arched brick windows, plaster fireplace and steel window looking into the workings of the pipe organ. A 20-foot built-in black marble bar serves the purpose valiantly.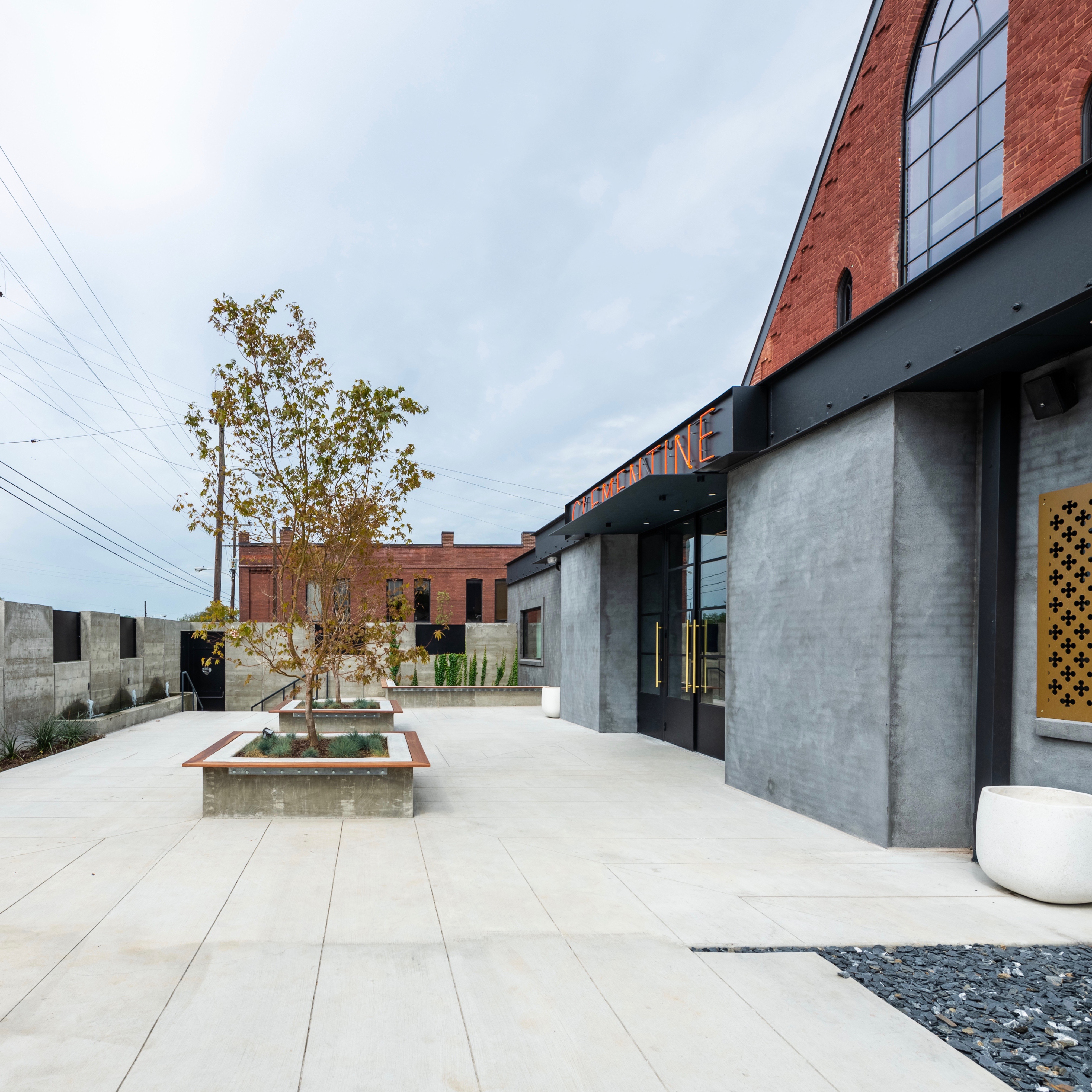 BRASH YARD (COURTYARD)
The courtyard is an intimate space, and we know something about outdoor spaces from Ruby. Board-formed concrete, black steel and mid-century breezeway block walls surround. Fountains, trees, cantilevered benches, thoughtful lighting and music prove that pleasant outdoor space and Charlotte are not mutually exclusive. The neon Clementine sign and original 1889 dragon tooth brickwork rises above it all.
3 DRESSING ROOMS
Yes, three. All are fully furnished: Bird, Tiger and Flower rooms, all named after their wallpaper. A large bridal suite with styling area and bathroom is where it should be, at the entrance to Adelaide Hall. Two downstairs dressing rooms may function as a groom's room and a band room or breakout space for corporate events. All with TVs, audio - and lucky one with a pool table.
CATERING
Even the large, well-lit catering kitchen reinforces Clementine's vibe. Catering has stainless tables, 2-well sink, refrigeration, and power. 2 doors front 48th Street for easy access.
A floor plan with dimensions and space design tools may be found at allseated.com.